DEKALB COUNTY CEMETERY
(Also known as the Poor Farm/County Home Cemetery)
DeKalb Township of Dekalb County, IL.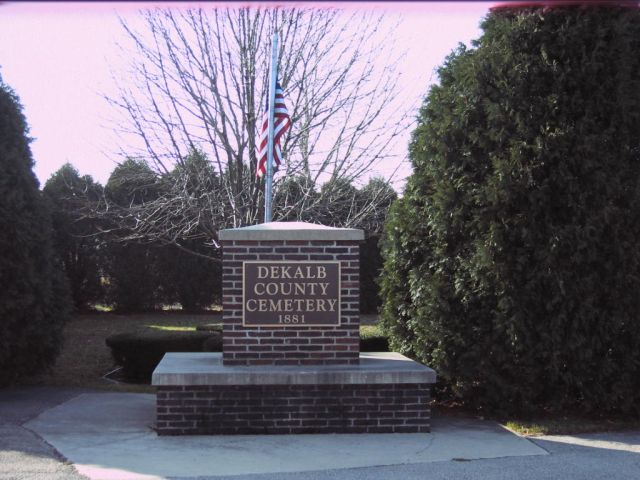 History
The land for the County Farm was purchased from David M. McDonald and Anne, his wife, in 1854. The sale is recorded in Book 34, pp. 31-33. The land was located between DeKalb and Sycamore at the current intersection of Barber Green and Sycamore/DeKalb Roads. The County Farm was for people who were less fortunate in surviving the conditions of the day. It provided a home where food, housing and sickness could be cared for. The infirm died and a county burial ground was needed for those who had no family, friends or funds for burial.

In a news article April 24, 1970 written by John F. Whiteside, it is mentioned 160 graves lie in this cemetery -- 90 x 180 feet surrounded by a modern fence. Small markers from 12 to 15 inches in size mark the graves.

In August 1990, many volunteers worked to restore a more pleasant surrounding to the cemetery and removed old fencing weeds and fallen tree limbs. New evergreens now surround the cemetery and a new sign compliments the front.
Return to DeKalb County ILGenWeb
This page maintained by Sheryl Dowden and copyrighted 2009 by Sheri Baker. All Rights Reserved.
Copyright of information linked to from this page owned by the Genealogical Society of DeKalb County and reproduced with permission.